Why I love Working in a Nursery
The list is endless as to what we can teach our children, but a child can also teach you many things, some of them being to be happy without a reason, to be curious and to fight tirelessly for something. It makes working in a nursery one of the most rewarding jobs going!
In my role, I like to take a step back and look at the world from a child's perspective, how it may look to a baby crawling, a toddler exploring the great outdoors or a Pre-schooler learning to write their own name - all the things us adults do daily without even thinking of how or why we do them. Getting to see the excitement on a child's face as they develop and learn new things is priceless. Knowing I've played a part in that achievement is why I love my job!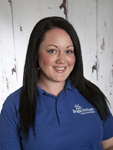 Every day is different, getting to meet new families, building up relationships and supporting their children as they grow into their own little characters is something I thrive on seeing. The satisfaction from watching a baby you've cared for and developed until they are ready for the next move to school is a feeling that never leaves you and makes you proud to be An Early Years' practitioner and a part of a nursery team.
I make sure every day is fun and exciting for each child whilst supporting their learning and development. My aim is to create everlasting memories and skills for our future generation and that – in a nutshell - is why I choose this career path and never looked back!
By Lynsey Barrett, Third in charge at Clairmont Nursery, Wilmslow