How to care for your mental health
Daisy and Jay from Bright Horizons share their own mental health journeys and how they reached out for help with their mental health.
"I developed techniques to challenge my thoughts"
By Daisy
"Managing my mental health has been super important to me over the last few years, I'd gone most of my life with very little concerns around my mental health, and I was happy and loving life.
However, 4 years ago my mental health changed, I still can't quite pinpoint what happened, but I started feeling very low and an intense feeling of failure. It
Throughout those sessions, I developed techniques to challenge my thoughts and realise that I am human. The sessions helped, and my mood lifted. However, since then I do have to keep working on my mental wellbeing.
So how does nature help me? I'm lucky enough to have two dogs who need to be walked every day whether I feel like it or not. But I use this time outside to do one of two things, wind down after a long day and switch off from work, or depending on the day I've had, it's actually quite a good time to think and reflect and I have some of my best lightbulb moments on a walk. The change of scenery helps change perspective and brings a bit of quiet and peace to my thoughts.
The above photo is one of my favourite places to go, the minute the sun is out and work is done, I pack the boys (and sometimes the wife) into the car and head here. There is water, fields and the dogs love it which already sets my head up for a good walk.
I really encourage you to find a favourite place, it could be outside or somewhere peaceful inside, a place that can help you switch off or inspire innovation!"
Jay's Mental Health Journey
By Jay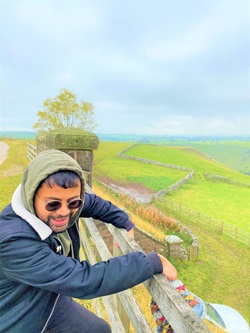 "Over the past year and throughout my lifetime, I have learned how important being outdoors in nature can be for, not only fresh air and lifting my spirits, but also helping me cope with daily life and the stresses that come with it. Whether this is travelling to a different city or country, to even just seeing some neighbours or dog walkers on my daily walk. Even a smile from a driver who lets you cross the road can make a huge difference to your mood.
Natural spaces are quite magical in some ways when you notice things like a parent running after their child, birds flying away, two dogs going for each other, seeing trees change their shape over the seasons, listening and watching waterfalls, and especially the pink skies.
One reason why I love a busy social life and travelling to different countries is that it allows me to see the world, feel nature where they are, and meet different people from completely different backgrounds and cultures. A bit like the meaningful conversation you can have in the smoking area with a random person in a club.
Having lost a very young 16-year-old male member of the family due to Mental Health was very difficult to take in. I still ask myself; could I have done something, why did he do this, how could I have prevented this, did he have something on his mind which he was unable to unload but more importantly, did he allow himself to unload his bad thoughts.
Like him, we all have bad days whether this is with a family member, partner, work, personal health, or even financial, however, I have come to realise that these bad days are so small compared to the better days I still have ahead, and this is something I have full control of.
Spending time in nature has been found to help people with mental health problems and ecotherapy has helped me to see things in the 'bigger picture. Nature also gives me the opportunity to clear any negativity whether this is walking/jogging on my own, with my wife, or with others.
Nature underpins our economy, our society, indeed our very existence, our forests, rivers, oceans, and soils that provide us the food we eat, the air we breathe, the water we drink. Most importantly nature is free, we often take it for granted and this is fine.
Please reach out to me if you ever want to walk and talk, via phone or even in person. It is crazy how talking to someone different can also make a huge difference."
If you're not feeling 'ok', feeling anxious or worried, please speak to someone. It can be friends, family, colleagues or confidential counselling through our Employee Assistance Programme, We Care. You can call We Care free on 0208 068 0035, 24/7. This programme is open to you and your immediate family.